Latest News:
"Reeling in the excitement! We'll be closed on Sept 29 & 30 for our first annual fishing derby." 🎣🌟
Portable Metal Structure Installation Help & Resources
Carport Installation Guide Resources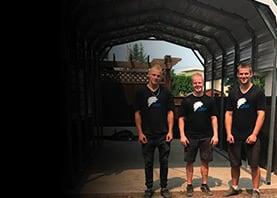 Get an instant quote today.
Check out our installation resources and frequently asked questions below to find answers to common questions about our products. Cannot find what you are looking for? Get in touch with our team today. We would love to answer any questions you might have.
Carport Setup Installation Video
It's as easy as 1, 2, 3!
Round Frame Portable Building Installation
A-Frame Portable Building Installation
Sides & Front and Back Wall Kits
Window & Door Framing Kits & Lean-to's
Frequently Asked Questions
Have a question about our structures?
Start with the FAQs below. If you don't see the answer you're looking for, call us at 604-799-8282 or tell us about your needs by completing our online form.
Can I get a carport or other structure with closed sides?
Yes you can. We can quote your carport with cladding down both sides or one side.
Can your structures withstand winds?
All our carports come with ground rod anchors, for all your applications.
Does it cost more money for different coloured cladding?
No, pricing does not change with different coloured cladding, see our 'Materials & Colours' Page for your options.
Do you offer shipping?
We currently have some local shipping companies we work with—for more details, please contact us.
Can I pick this up with my pickup truck?
No, you will need a trailer at least 18' long to pick up your carport. If needed with can shorten lengths.
Do I need a permit?
Each city has different rules and regulations about this. We don't offer an engineered carport, JAW products are classified as portable structures.
How long will it take to build my structure?
Most cases we can have your carport ready in 2 to 3 weeks or less. Call us for a more precise delivery time.
What kind of materials are used?
The tubing is Square—14 Gauge Galvanized tube and 29 Gauge Metal Cladding.
Can I get a custom sized carport or structure?
Yes, we do custom builds as well. Call us and we can discuss the details of your requirements.
What kind of snow load are these rated for?
Our carports are not engineered, so their is no actual snow load rating we can give you. In saying that, these handle snow very well. During installation you can stand right on the roof. If you are concerned about this please contact us and we can explain in more detail. Our buildings may require snow removal or maintenance during snow falls to prevent damage.
Do I have to have a tradesman install this or can I do the installation myself?
These carports go together with ease, kinda like 'adult lego' All you need is ladders and drills—Basic construction knowledge will help.
Where do I start sheeting my carport?
If you have an even amount of sheets, you join your first two sheets and the centre of the rafter. If you have an odd amount of sheets, you saddle your first sheet dead centre of the rafter.
Note: This is for a carport ordered with no extra sheeting.
GET A QUOTE IN LESS THAN ONE MINUTE.
Virtual Portable Building Creator.
Step One

(EDIT)

Step Two

(EDIT)

Final Step
Region:
Choose a province:

*
PRO TIP:
All fields with a red dot are required.
Got a question? Connect with us.Contact Us
We're the team to trust for your portable building project.