Latest News:
Crafting durable metal structures, Jaw Portable Buildings offers reliability in every structure we manufacture.
The JAW Difference.
Portable Garages in British Columbia & Alberta.
Amazing customer service. We are your one point of contact for all your metal building needs.
Fast turnaround time! Get your portable building is as little as 2 weeks.
---
Custom designs available.
We can completely customize any size portable shelter, optimizing it for your exact requirements. Learn more.
Contact Us
The best portable buildings on the market.
Western Canada's Top Portable Garage Builder

Tested against the brutal Canadian Winters.
Durable Portable Carports & Shelters.
All of our portable buildings and shelters are thoroughly tested to ensure that they can stand up to even the harshest Canadian weather.

Huge inventory in stock, ready for your immediate needs.
Large Selection of Portable Shelters and Boat Covers.
JAW Portable Buildings carries a wide range of portable shelter options in a selection of different sizes and colours.

Fast and simple installation!
Easily Installed Carports & RV Shelters.
All of our moveable shelters come with everything you need to assemble the unit, quickly and efficiently.

12 colours to choose from.
Durable Portable Carports & Shelters.
Moveable buildings from JAW Portable Buildings are available in a variety of colours, making it easy to find the right building for your specific needs.

Unique one-piece rafters using 14-gauge galvanized steel!
Strong Portable Buildings.
All tubing and framing used in our portable buildings are made from galvanized steel for added strength and longevity.

Supported by a great team of experts!
Durable Portable Carports & Shelters.
Working with JAW Portable Buildings means never having to deal with a middleman. We are experts in both supplying and manufacturing portable buildings.
VERSATILE AND DURABLE PORTABLE STRUCTURES FOR...
Car Garages
Boat Shelters
RV Storage Solutions
Attractive, Effective, and Tough:
Perfect for Commercial Use
Custom Portable Commercial Structures
Whether you need a covered workspace, secure storage, or vehicle protection for your commercial, industrial, or agricultural property, our custom portable shelters can get the job done. Make sure your specs are fulfilled and you have all the space you need to work effectively, and never worry about the weather ruining your workday again. All commercial shelters are designed and built with the needs of our clients in mind.
Commercial Structures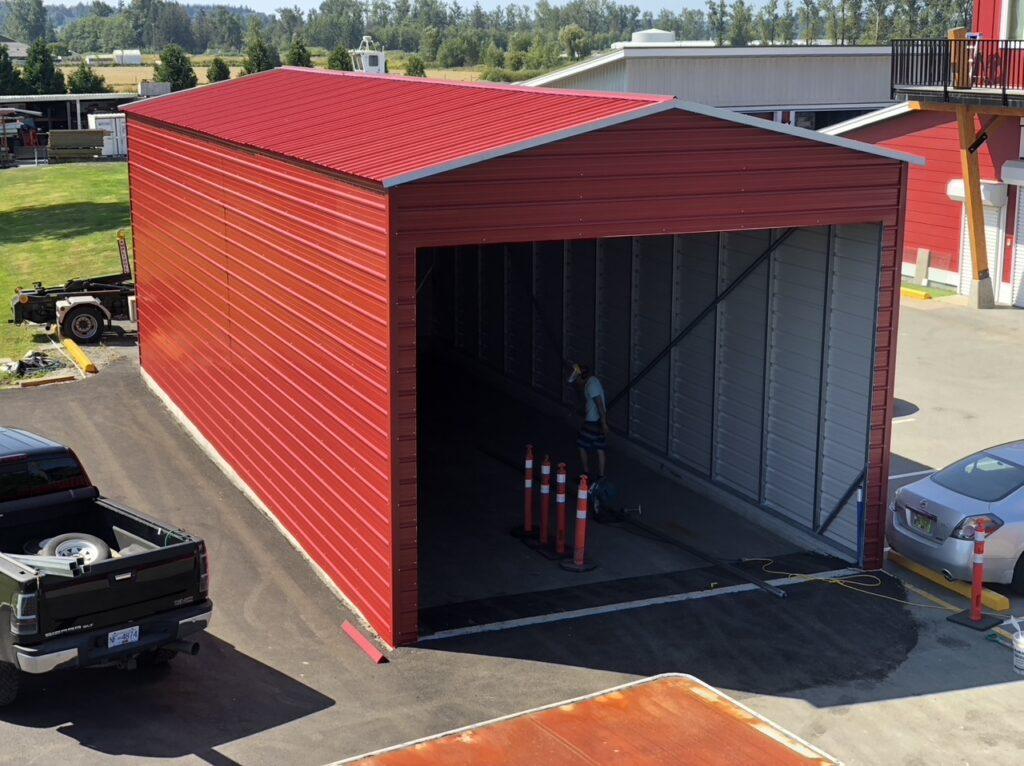 Find us on Facebook.
Or follow us on…
GET A QUOTE IN LESS THAN ONE MINUTE.
Virtual Portable Building Creator.
Step One

(EDIT)

Step Two

(EDIT)

Final Step
Region:
Choose a province:

*
PRO TIP:
All fields with a red dot are required.
Got a question? Connect with us.Contact Us
We're the team to trust for your portable building project.