Latest News:
"Reeling in the excitement! We'll be closed on Sept 29 & 30 for our first annual fishing derby." 🎣🌟
Accessories and Addons for Portable Garages & Carports.
Building Accessories
Add-On Guide
Accessorize your portable building with the best quality parts.


Elevate your JAW Portable Building experience with our curated range of building accessories. Whether you're looking to optimize space, increase accessibility, or boost the overall appeal, our accessories are the perfect complement, promising the JAW quality you've come to trust.

Transform your building into a bespoke space with JAW.

Experience the robustness of our 32″ wide x 80″ tall Exterior Steel Prehung Door, designed meticulously to ensure ease of access while maintaining a sleek look.
Let natural light illuminate your space with our 24" x 24" Vinyl Sliding Window, designed for easy installation with a handy nail flange.
Secure your belongings with our finely crafted Keyed Entry Door Knob, combining both style and functionality to enhance your building's security.
Experience the efficiency of our maintenance-free 26 Gauge steel roll up door. Whether chain-driven or motor-driven, our design ensures you retain maximum headroom. Multiple sizes available to best fit your needs.
Crafted for perfection, our Small Tab Closure guarantees a snug fit between panels, enhancing the overall stability and look of your structure.
Elevate the resilience of your building with our Butyl Sealer Tape. Expertly designed to ensure your structure remains watertight, irrespective of the elements.
Created for longevity, our Universal Expanded Closure promises a tight and enduring seal between roofing materials and panels, ensuring durability.
Achieve optimal ventilation without compromising on the seal with our Profile Vented Closure. Expertly designed for a harmonious blend of functionality and style.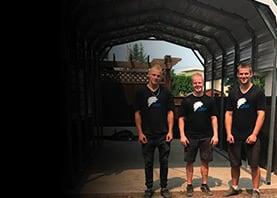 Get an instant quote today.
Available Addons
Accessorize your portable building with the best quality parts.
GET A QUOTE IN LESS THAN ONE MINUTE.
Virtual Portable Building Creator.
Step One

(EDIT)

Step Two

(EDIT)

Final Step
Region:
Choose a province:

*
PRO TIP:
All fields with a red dot are required.
Got a question? Connect with us.Contact Us
We're the team to trust for your portable building project.